KTM Lisse Prestige - Frameset
We're sorry we're out of stock, but we can let you know as soon as this product becomes available again.
Enter your details below and we'll email you once this item is back in stock.

Introducing KTM's innovative new Lisse aero road bike.   (pronounced like "lease" - its French for smooth)
Offered as a frame / forks / stem / seatpost / axles, package to allow customers to build their dream spec bike
This bike has been in development for a number of years and is now ready to be released to the public.  
The fully integrated cables and innovative exclusive KTM stem that feature on the dedicated aero Lisse ensure this bike is as fast as it is attractive.
This bike considers aerodynamic advantages from all angles and does everything possible to minimise resistance.   The R&D department at KTM worked closely with our partners in the sports motorbike division to analyse the air stream as it effects bicycles, in cross wind and headwind at all speeds and in all conditions.
KTM were therefore able to create the perfect aero frame by considering the wind turbulence generated by the bike, and then looking at tube profiles and cross sections, along with the UCI requirements.
The result is the Lisse frame that has the optimal mix of aerodynamic, stiffness, weight and shock absorption to be a very fast, very versatile road bike.
The integrated stem (supplied with 4 shims to give a full range of bar heights) is at the core of the innovative aero concept that ensures its fast AND user friendly! The hassle free "top to bottom" concept routing allows mechanical, di2 and eTap shifting with relative ease.
This Lisse Prestige frameset is built specifically for eTap, so there is no cable routing for standard gears.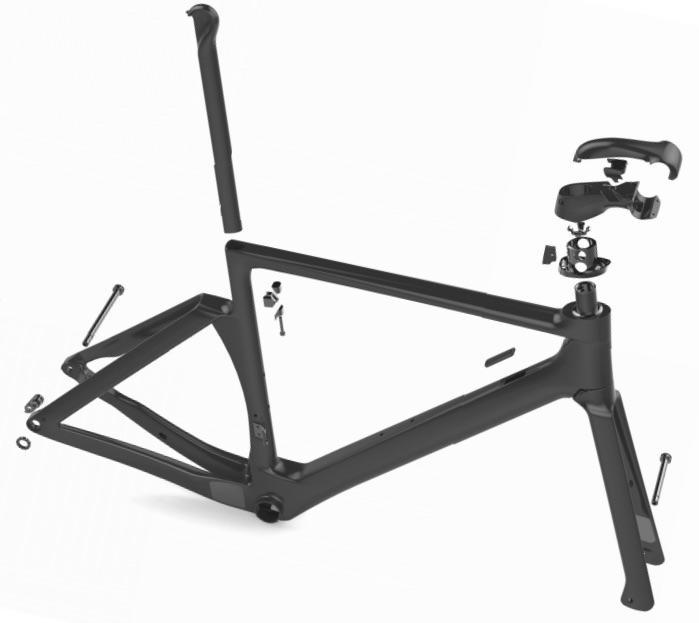 The target of a sub 1000g frame weight has been achieved though the use of the best combination of carbon fibre grades and nano resin.