Mini Enduro - eBIke race report

Report by; Col Williams - KTM / Impsport RT
Well last week didn't pan out as I'd intended. The Tour de Yorkshire was due to roll though Huddersfield and the KTM sponsored UCI team was racing, so I should be there to watch obviously. Stage 3 came right past my front door, literally! However a mid week text from the team running the Mini Enduro at the Forest of Dean saying they were having an eBike category and we should send someone to represent KTM, changed the weekend. Its always better to race, than watch other people race, isn't it?
Well its just the kind of invitation I love, so I said yes before even thinking about the logistics.
This would be my first eBike race, and my first time riding a full suspension eMTB, and my first time riding an eBike at an MTB centre, so would my experience be positive?
Problem 1) find a suitable bike.
The only eBike at the FLi offices that wasn't out on demo / test / with a dealer etc etc was a Mini Me, and whilst my return to enduro racing was never going to be super serious, I was pretty sure turning up on a 24" wheel'd kids eBike might not be the way to glory.
So a couple of phone calls later and the super friendly guys at JE James in Rotherham offered to let me have one of their still boxed KTM Macina Kapoho LT 272 bikes, and I'd replace it with a new one the following week from our next delivery.
Happy days
Friday afternoon and I find myself visiting J E James with a box of doughnuts to swap for a nice 160mm travel enduro bike so I could race at the weekend. Nothing like last minute.com, but one of the many great perks to working in this brilliant industry!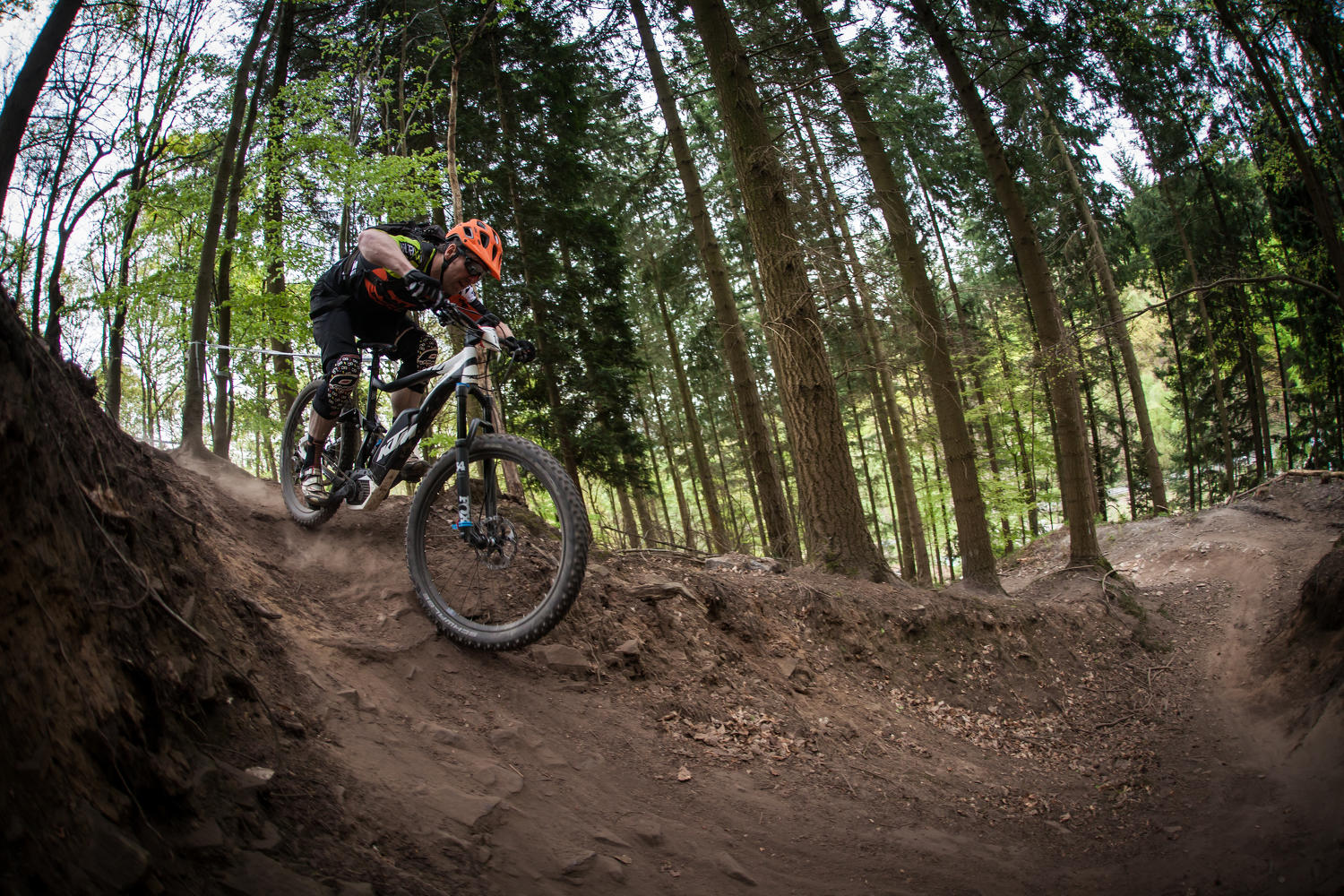 Its been a few years since I've raced Enduro or DH, so packing was always going to be a bit of an issue... where were my goggles / full face? Should I pack spare wet weather tyres, did I even have any wet weather tyres etc etc etc.
It was at this point I discovered problem 2. The Kapoho LT is a 27.5+ wheel sized bike, and I didn't have any spare tubes, so I had to buy a new spare inner tube in case of emergency.
Next stop - Forest of Dean.
I grew up in these parts, so its always good to get back to Cannop Ponds and see the progress the Cycle Centre has made over the 20+ years that I've been riding there. Its great to see the thriving cafe and hire centre and lots of smiling faces filling the car park and trails there.
Its always good to get to a race and see familiar faces, so after some chat I started to prepare to ride... and discovered problem 3). I'd forgotten my baggy riding shorts. So option a) ride in jeans was discussed, but dimsissed because, well I'm just not that cool. option b) ride in the lycra shorts i had with me, was discussed, but well I'm just too cool ;). so option c) it was, pucker up and walk into the onsite shop and pay RRP for some shorts. It hurt, but one can never have too many black shorts.
So time to hit the trails.... and this is where the eBike came into its own.
I arrived at the same time as our Junior Enduro racer (Robbie White) he's quick - going onto win the super competitive Junior class. So it was interesting to see how out Saturday practice compared as we set off.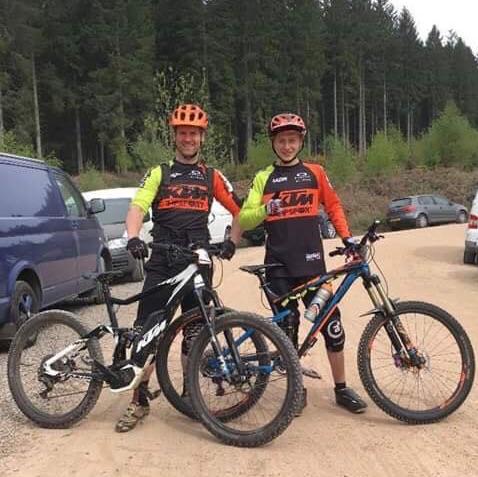 I completed all 4 stages (eBikes had an extra bonus stage) and started back up the main climb to see Robbie pushing up with his mates. It turns out he'd done Stage 1, and was heading to 2. I rode for about 1 1/2 on the saturday and did all 4 eBike stages at least twice and in some cases 3 times. The normal bikes were lucky to do just 3 stages in the same time. I suspect we'd put in about the same effort, but I'd ridden 4 x as much downhill. It was like having my own personal chairlift, myself and the other eBike riders were loving it.
I'd brought a spare battery with me to extend my range - v. organised! problem was I'd left the keys for the bike in my kitchen, so the spare battery just sat in the car collecting dust, as i couldn't take my battery off. Lucklily it wasn't needed, my body needed a rest before the bike did.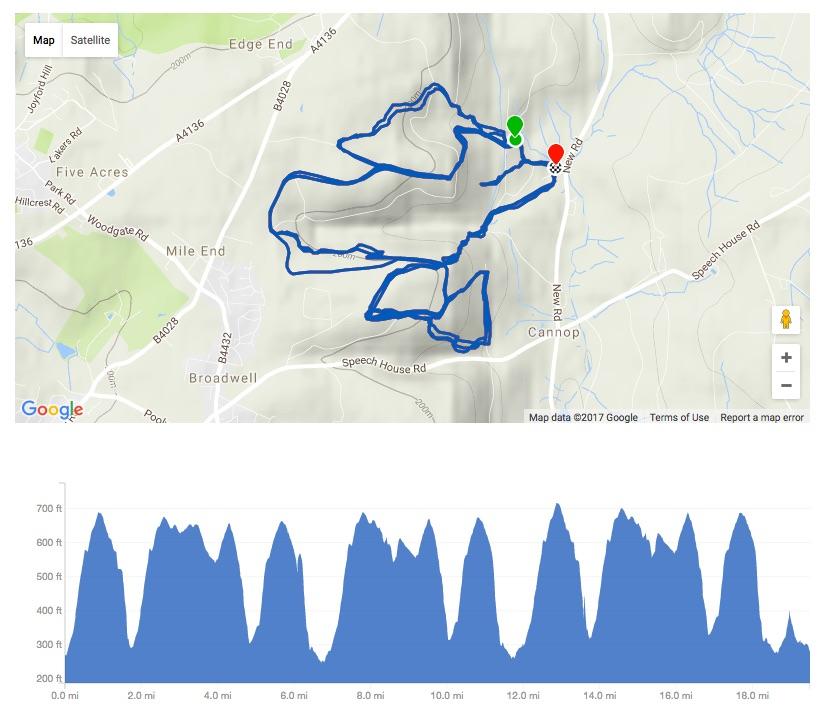 The strava data for my 90 minute practice session on the Saturday - thats 4000ft of elevation in 19.5 miles in 90 minutes.
Back to Cheltenham for Saturday night, take advantage of the excellent parental b&b and borrow a socket to charge the bike whilst getting some good home cooked food in to recharge the rider.
Sunday arrived all to quickly and the weather looked good, but rain was forecast. With only one set of dry tyres and no desire to ride FOD in the mud I was glad the eBike class was off first as 12:30. So we had 3 hours of practice in the morning to get the lines dialed. I smashed out another 12 miles, so 2 complete laps with an extra fun of Stage 3 and I was goosed with hours of left of practice.
Time to sample the cafe and recharge whilst wait for racing, with plenty left in the battery, it was me that was letting the team down.
12:30 came and the eBike guys spun up to the start of stage 1. It was great to see so many brands represented across the 17 riders. KTM, Haibike, Scott, Cannondale, Trek, Mondraker were amongst the ones I spotted.
it was great to be back between the tapes racing against many of the guys I've known for years, and the banter hadn't changed despite the fact that we'd used eBikes to get to the top, where in the past, we'd pushed or used chairlifts or ridden or been in the back of a quarry truck. People who say eBikes are cheating really need to look at what they offer, and that's essentially a personal uplift vehicle for your favourite trails. How can it be cheating when other people are paying £25.00 a day to sit in a minibus to do the same thing??
Anyway, if you want to read a report of the actual racing, with results and a video, the guys at Pink bike have done a great job.
Watch it HERE
Big respect to all the winners including Robbie from our KTM / Impsport team who won Junior Men... It might be mini, but its super competitive and winning here isn't easy.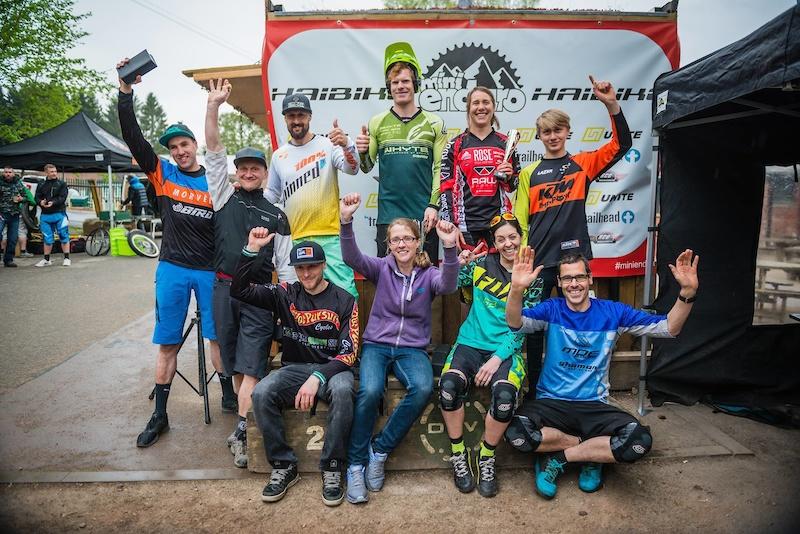 eBikes are the futures.... its like Sky+ for MTB. you fast forward all the dull bits!
if you get the chance try one. You'll love it.