2016 KTM - Straight Line Link

The range of KTM full suspension bikes has been been transformed for 2016, so we thought we'd take some time to introduce the new framesets and show you how they have evolved.
KTM produce 2 full suspension models, and each of these models comes in aluminium or carbon options.
The Scarp is the 29er version and has 90mm of rear end travel.
The Lycan is the 27"/650b version and has 125mm of rear wheel travel.

Utillising the new Straight Line Link (SLL) both the new frames offer excellent small bump sensitivity whilst also effectively absorbing the larger hits.
This new suspension system has no bearing at the dropout, maximising stiffness.
2016 Scarp 29
Looking at the Scarp first..... The design team have used the new Straight Line Link (SLL) to produce a lighter weight frame, that is even faster and more efficient than the previous model. Ideal for the more challenging XC circuit or marathon racing, but equally at home at a trail center.

The Scarp now has 90mm of rear wheel travel, and for 2016 the top tube has been lengthened, head angle slackened and bearing size increased, resulting in a more aggressive and more durable ride.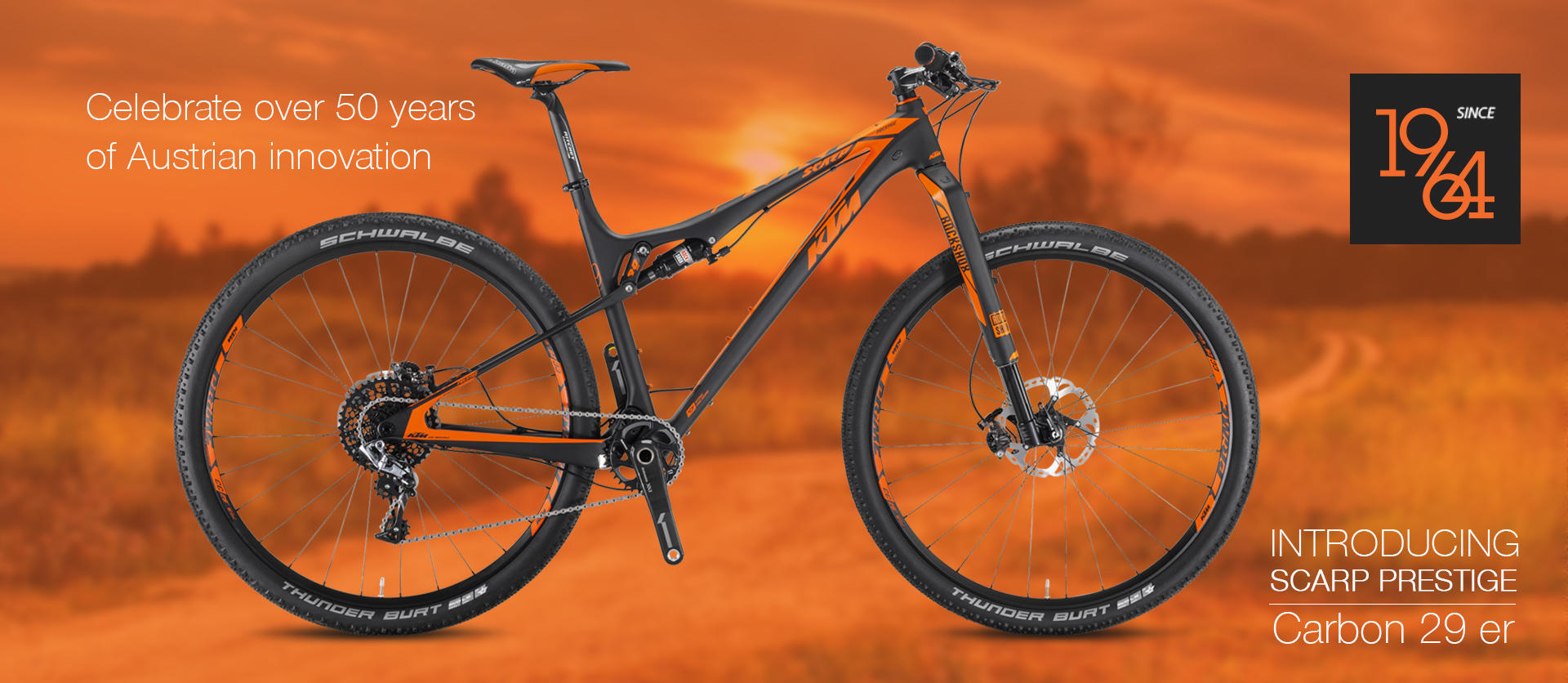 The Scarp Prestige is the top end full carbon model at £5199.99. However the Scarp range starts with the more wallet friendly aluminium version - the Scarp 294 for £1899.99
2016 KTM Lycan 27
As with the Scarp, the 2016 Lycan is a totally new frame for this season. The previous model has gained lots of fans, so KTM had a great base from which to work. The new frame uses the SSL Link to ensure this 125mm xc / enduro bike has the efficiency and power transfer previously only able to be achieved by short travel xc race bikes.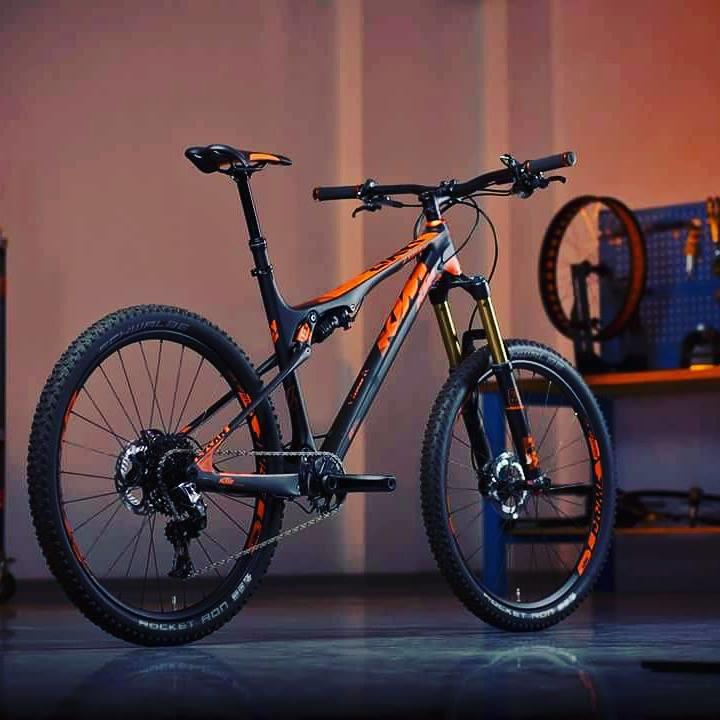 2016 KTM Lycan Prestige
In addition to the new suspension design the Lycan front triangle has also been redesigned, its longer and lower, with a slacker head angle, and is designed to be run with a shorter stem. This more aggressive, racier set up is exactly what our team riders have been asking for, and we're happy to deliver it now in this production frame. The bearing size has also been increased resulting in a stiffer, stronger frame.
The full carbon frameset is found on the Prestige, Prime and Master models, whilst the aluminium frame is found on the Lycan 272, 273 and 274 models. The Lycan Elite has a carbon front end and aluminium back end.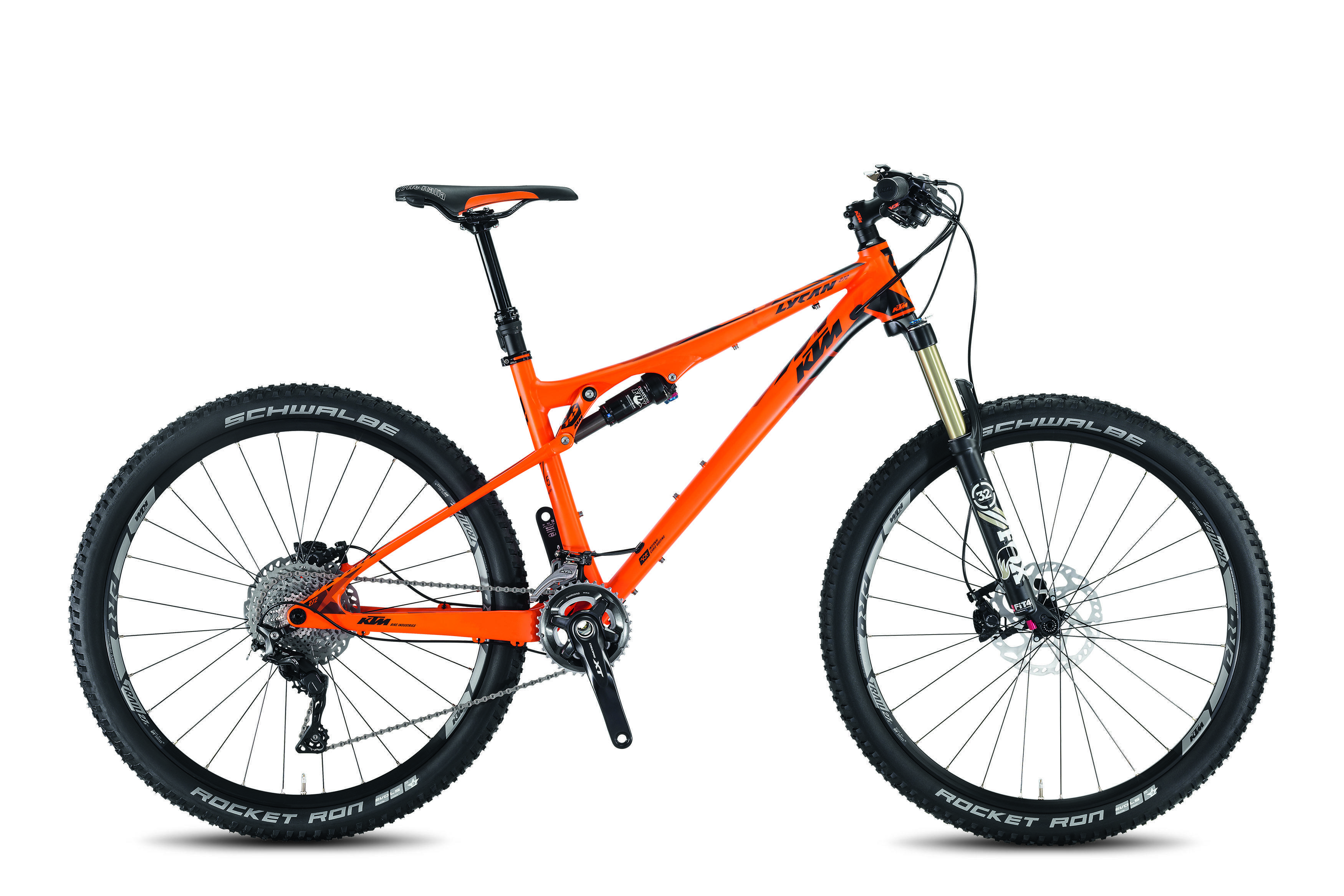 Lycan 272
These new bikes are exactly what our UK team riders and customers have been asking for, so we're excited now that they are starting to ship to our dealer network. We can't wait to see them out on the trails and at races all over the UK this summer.