RTR Academy

The RTR Academy is a project we will be running for the 2020 season.
The aim is to provide riders with a package that includes so much more than just a bike. We want to help a group of riders develop to a level beyond their own expectations, and participate in a selection of events with the support of a select group of industry partners.
The ultimate ready to race package.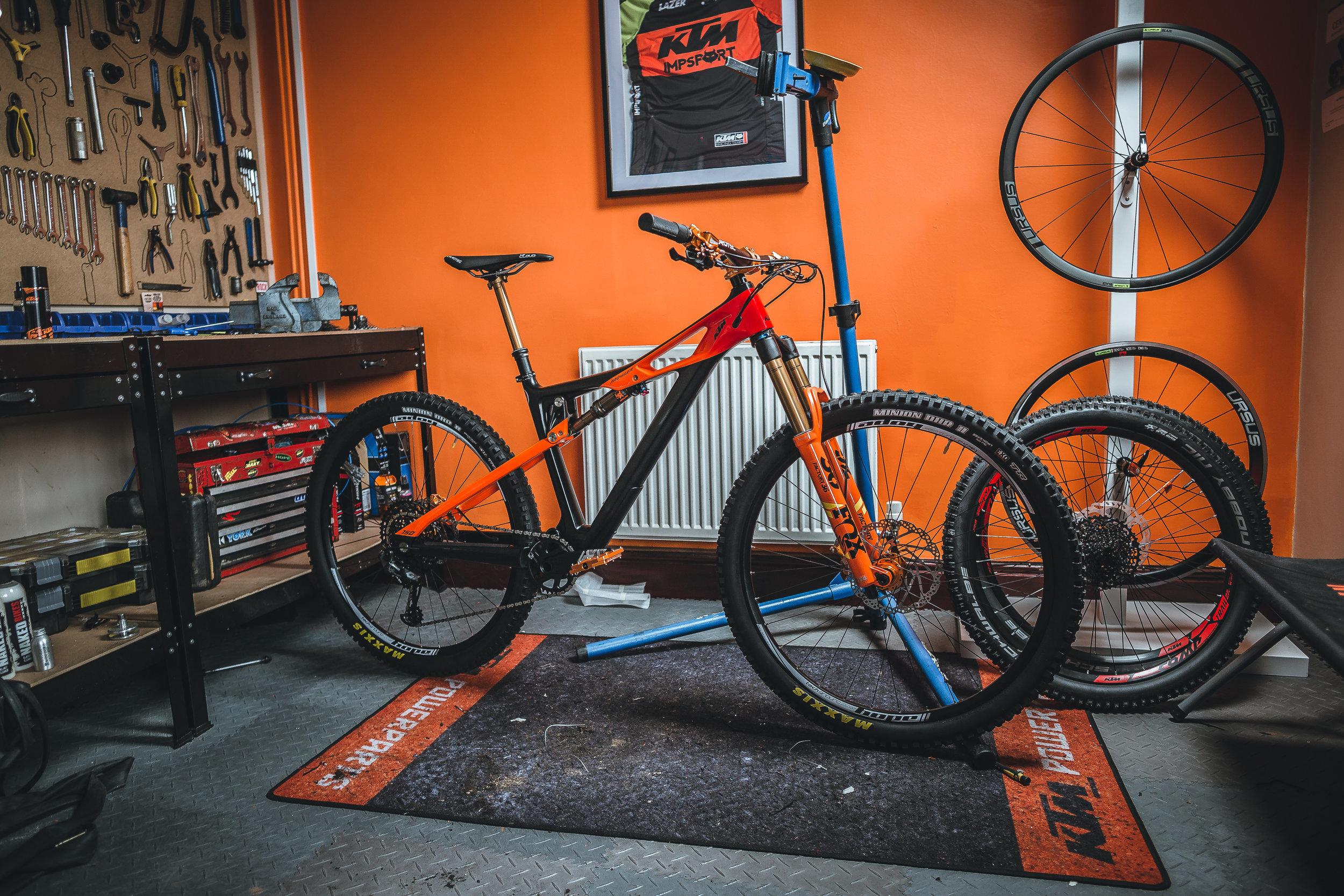 We're searching for a like minded group of amateur riders looking to get themselves onto a fast long travel 29er enduro machine. Perhaps you have never been between the race tapes, but have always wanted to give it a go, or maybe you've never ridden your bike abroad but the mountains are calling - we want to hear from you. If you're looking into upgrading your current bike or maybe this is the first enduro style bike you've ever thought about buying we want to take on riders with little large mountain experience, this is an academy- not a race team.
So what do you actually get?
-To begin with you'll get a custom painted and built 2020 KTM Prowler Sonic, a bike that we all have tried, tested and loved. The paint job will be provided by Addicted Bikes (draft pictured bellow) as well as custom frame protection decals from Merge Decals. We want to show this bike to a wider audience and this is our way to do so. You'll get your choice of Sram or Shimano groupset and the bikes will be build up with components from the companies involved in the bottom of this page.
-You will then be kitted out with a custom race jersey designed for the project, a 100% full face helmet, googles, gloves and knee pads all thanks to Silverfish Distribution.
-A full clean and wax kit that will be topped up throughout the year provided by Naked Bikes.
-Pure Performance Coaching will be providing a full training program for each rider to follow as much as they like in order to progress with fitness along with time on the bike. They have created a structured 6 month training plan designed for real riders with real lives and real commitments. The plan will help riders achieve a new level of performance and enjoyment on the bike. 2 x 1 hr sessions during the week and a ride at the weekend are all that is required for you to reach your goals. Each rider will have a goal and their plan will be created accordingly. The plan is designed by a fully qualified mtb, cycling and fitness coach who is a Prowler rider himself, so he has designed the sessions with this bike in mind. There is a full and unlimited coach support service available to each rider to ensure that goals are achieved.
-We've brought on J-TECH suspension to make sure your bike will be tuned and set up to you. To do this we will have an uplift day with one of their technicians and Pearce Cycles at a central location to which they will custom tune every riders suspension pressure, tokens, rebound etc. They will also offer a 10% discount on servicing, tuning and products, within the next 12 months, to all riders.
-Another day spent on the bike will be a skills training day with Ian Warby from Firecrest MTB Training. This will be run at Aston Hill Bike Park in Buckinghamshire. You'll be introduced to Firecrest MTB's race winning 'skills system' before going on to put your skills into action riding sections of Aston Hill Bike Park. Everything you need to have dialled to build your confidence and ride faster will be covered on the day, from line choice to cornering, descending, jumps, drops and lots more. KTM and Fli will be there in full support incase of mechanical etc.
-Potential to spend a week in central Europe to ride and compete in a high level MTB event. This is something we're in the motion of planning but will be based off of how many riders want to take part in the event and availability. We will take the riders into the alps to spend a week riding the big mountain trails they have to offer as well as race in a large scale event such as the megavalanche.
-We will also reimburse all travel costs to the events listed and riders will receive cost price parts and accessories from KTM throughout the program.
-We also hope to do a UK high profile MTB event in which all the riders would be able to compete in.
Riders will receive all of this and only have to pay the price of the bike.
Want to get involved? We want to hear from you.
If you're serious about purchasing the KTM Prowler and want to improve your MTB skills whilst having an amazing time doing it then this program is for you.
What we want to know about you.
Name
Age
Background in riding or racing
Sram or Shimano groupset?
Would you be interested in travelling to the Alps to compete in a high level MTB event?
Why do you want to be a member of the academy for 2020?
What are you looking to get from being a part of the academy for 2020?
Please only email if you're serious about applying for the academy.
Please answer the questions about in an email address to ben@flidistribution.co.uk with the subject title KTM Prowler Academy- (your name)
Thank you for expressing your interest and we look forward to hearing from you! - Happy riding