Ex Display Usus Magnus MH.01 Handlebars Size L
Ex Display Usus Magnus MH.01 Handlebars Size L

The Ursus H.01 handlebar has proven extremely popular around the world and we have a couple spare ex display models in the office. These particular bars haven't been ridden and only used for photos etc.
Specification
Size Large- See Chart Bellow 
Matt black colour with grey highlights
Width: 420mm
Length: 115mm
Reach: 75mm
Drop: 130mm

TECHNOLOGIES
• Monolithic carbon composite
• Grip treatment for fixing brake levers
• Special clamp
• Same aerodynamic position thanks to the adjustable alpha angle
• Grip treatment for fixing brake levers

SCALING DESIGN
• Ergonomy: different sizes for different type of hand. Every measurement change with the size of the cyclist's hand.
• Structure: following the size, length, width and thickness on the stem change.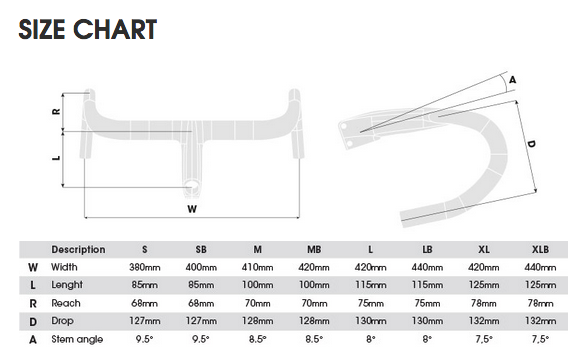 • Geometry: reach and drop can change according to the size.
• There are more geometric sections of the handlebar and stem, when the dimensions become bigger. To guarantee always the same rigidity and resistance.
• Structure adjusted on different sizes to get the best compromise between performance and weight.
• The proportion of sections is 3:1. The same requested by UCI certificate.
• Internal cable routing.
• Spacial bracket for DI2 (Shimano) and EPS (Campagnolo) junction.